Setting up the Home Lab Environment
The main reason behind building a Lab at Home, like many others also do, is to help me study and learn.
The specification of the hardware I used for the Lab can be found here.
To give you a better understanding of the setup and the nesting that is happening, I have drawn the below diagram. You can see that everything is on a single physical machine running VMware ESXi 6.0 U2, and the picture below represents the logical design of my lab. A physical switch, a physical server, and everything else virtual.
Logical Design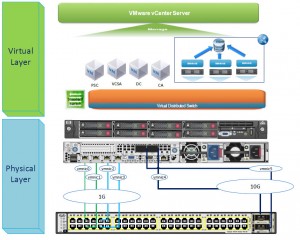 The Main Lab "Infrastructure" Setup
Let's outline what our basic infrastructure components will be for the Lab.
| | | | |
| --- | --- | --- | --- |
| Hostname | OS | Description | Hardware |
| vgnosisesx01 | Vmware ESXi 6.0U2 | vGnosis Physical ESXi Host | HP Proliant DL360 G7 |
| vgnosis2k01 | Windows 2012 R2 | vGnosis Domain Controller and DNS | Virtual Machine |
| vgnosisvap01 | Virtual Appliance – SLES 11 | vGnosis PSC (Platform Services Controller) | Virtual Machine |
| vgnosisvap02 | Virtual Appliance – SLES 11 | vGnosis VCSA (vCenter Server Appliance) | Virtual Machine |
| vgnosis2k03 | Windows 2012 R2 | vGnosis VUM (Vmware Update Manager) | Virtual Machine |
| sw01 | Cisco IOS | vGnosis Cisco Switch | Cisco WS-C3750E-48PD |